Be a pro ✅
safe & quick notes in-browser
2 Million+ downloads! A must-have chrome extension since 2011
Take notes lightning-fast⚡ right inside your browser. 🔥Fully loaded🔥 with innovative features!
✔️100% Offline  ✔️3‑Notes layout   ✔️Animated Themes   ✔️Fonts   ✔️Focus mode   ✔️Dark mode   ✔️Backups A Short
Promo Video
Quickest way to jot down notes.
✓

Open & Close in 1-Click

✓

Organize in single-click folders

✓

Stop switching between windows

✓

Completely in-browser experience
Watch on Youtube
Fully loaded with awesomeness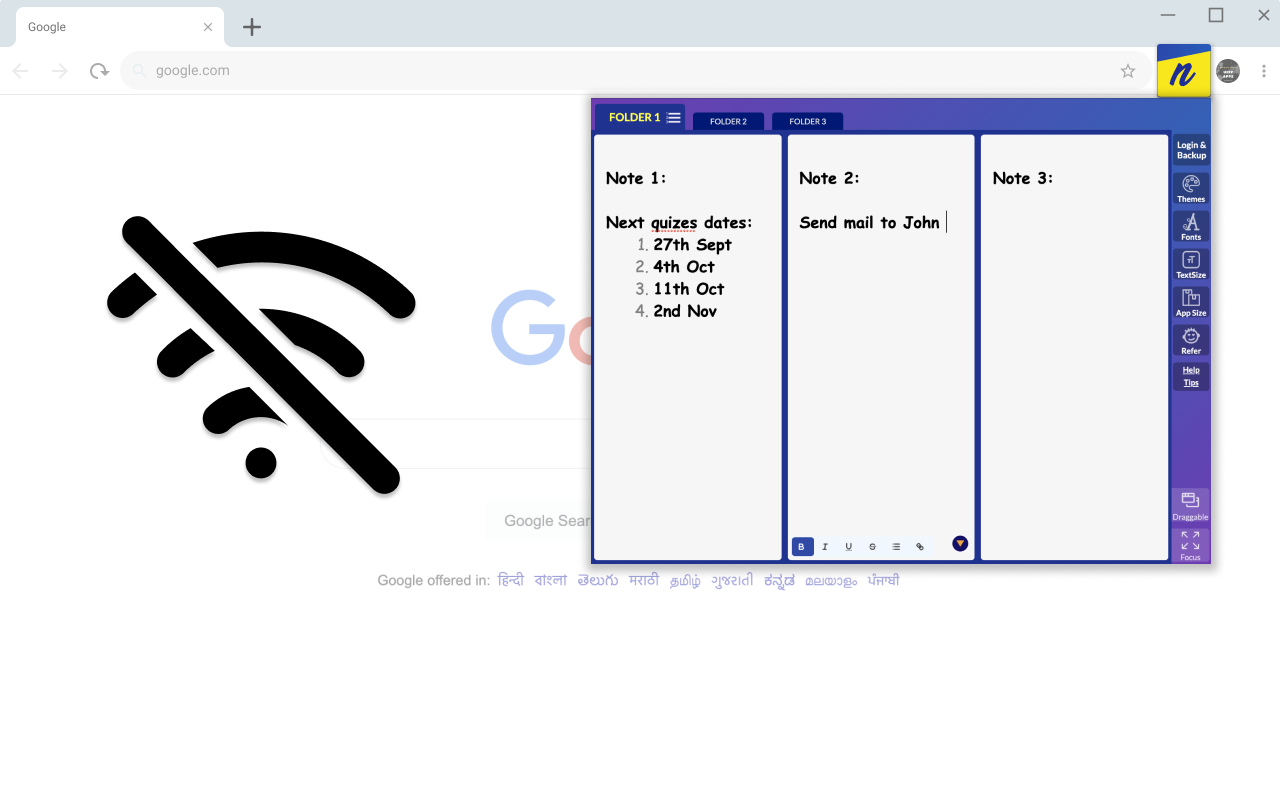 Free Feature
Fully Offline
The app works flawlessly, even without an internet connection. There are no loading screens that waste time or that lose a sudden thought in your mind.
Premium Feature
Animated Themes
Gorgeous & Handpicked themes available as per your taste. You can choose from various themes like - Dark Mode, Solar system, Aquarium, Valentine, Sunset, Rainbow, Evergreen, et al. You will love them all.
Premium Feature
Lightning Fast
Note down the important stuff faster than ever! No Switching between windows or tabs. Take notes from wherever you are.
1

Copy something while working

2

Open the app in 1-Click

3

Paste into the app. And close the app by clicking outsite.
Premium Feature
Focus Mode
Focus mode will remove all the colorful elements from the app so that you can focus on your work.
Award-Worthy Features
Striving hard for your success:
Privacy First
Only you own the notes data. Your data never leaves your computer. Unless turn on optional cloud backups.
Responsive Design
The extension is crafted responsive from the ground up. You can choose various sizes of the layout - from tiny to giant.
Lifetime Plan Available
If you buy our lifetime account, the app never expires. Once you buy it, it becomes yours, forever.
Invoice Available
Get your invoice for accounting or reference purpose.
Group Buys
Bulk buying in groups is allowed. No restrictions. Reselling is not allowed.
Amazing Support
We provide world-class email based support to help you achieve the best.
Our customers love our product
Testimonials
We've received hundreds of emails that make us proud of this app. We also have great reviews on Chrome Webstore.
Don't just take our word for it, read some of from our extensive list of customer testimonials:
Wonderful notes extension. Pops up easily, does not ask for stupid permissions like 50% of extensions on the store, and just works very well.

Rafhaan Shah
I am a web developer and often I need to paste some snippets of code to re use on the project I am working on, to use a full featured app like Google Docs or Evernote was overkill and not that convenient since you have to wait the app to load etc. Sticky Notes is a joy to use because it is super fast. Brilliant!

Roberto Ciccolella
Don't waste your time looking for anything else if you want basic, simple, and easy to use. I like it, just what I was looking for.

Eyad Shelton
What is not included
1

Mobile App is not available

This extension is designed to be used on desktop browsers. Although premium users can read notes on any device (including mobiles, tablets) by signing into the website.

2

No Sync between the devices

The extension is meant to be used on single device. So if you own multiple computers, the data stays independent between them. No sync or sharing feature is there.

3

Users cannot share data with each other

This extension is designed for personal use only. You cannot share notes with your friends or colleagues.
Download Sticky Notes Now
And give a boost to your productivity. It is a must-have for everyone who works primarily on browsers.
Try For Free →
💰Get Free Premium💰
Give us feedback & reviews, Earn premium account for free. No limit.
Email us at - support@ukiv.com